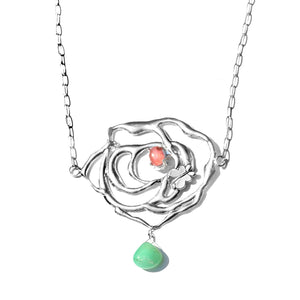 My Love is a Rose necklace from Empower collection:
Sterling silver Rose is on 18-inch chain accented with rhodochrosites, and a butterfly.
The butterfly is associated with grace and renewal, helping people move away from fear and inspire hope.
About Rhodochrosite:
Rhodochrosite represents selfless love and compassion. It expands consciousness and integrates the spiritual with material energies.
About Chrysoprase: 
Releasing grief from the emotional body, from whatever time span it occurred, this stone creates emotional balance and facilitates constructive expression of what has formally been left unsaid.
The pendants is about 83 mm long (2.3 inches) and 45 mm wide (1.88 inches)
Handcrafted in USA

The necklace is made to order, so please allow for 2 - 4 weeks for production