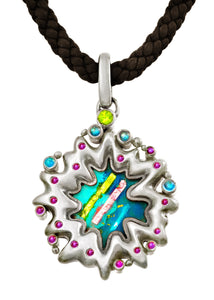 From the Celestial Collection comes "Snowflake", a Sterling Silver pendant. This pendant is reversable, with both sides reflecting a different vision. Waterfall-like vitreous enamel is accented with amethyst, blue topaz, and peridot. The total pendant weight is 22 grams, and the pendant measures 1.7 inch by 1.5 inch (width). The pendant is shown on a braided silk cord (sold separately).

Every piece is hand-made so the colors may slightly vary.

My jewelry is a nature-inspired, artisan-crafted blend of contemporary, high quality enameled metals, and natural stones. I create jewelry that speaks to the world about who you are: classic, modern, bright and bold, flashy and fun or simply elegant. I design to inspire.